The Future of Financial Wellness is Taking Shape
As the way we work changes, financial wellness should adapt too. Explore these new ideas that are shaping the future.
While the initial thrust into remote work was a crisis response, it is now being embraced by both employees and employers. In fact, many companies plan to maintain remote workforces. A recent workplace benefits survey found that 9 out of 10 of companies plan to keep 25% or more of their workforce working from home (WFH) when business operations return to normal.1 WFH isn't going away anytime soon.
---
Changes, Challenges, Solutions
When something monumental changes it is bound to illuminate new challenges. Executives have expressed concerns about how the remote work environment will impact productivity and company culture. With 4 out of 5 employees afraid of losing their jobs2, employers are looking for creative solutions to help employees create wealth and meet financial goals in our complex world.
Reality Check
Workplace wellness programs have historically focused on physical and financial heath with a strong emphasis on benefits like health insurance, retirement plans, paid sick leave, life insurance, health savings accounts, disability insurance and flexible accounts for healthcare or dependent care. However, the pandemic prompted a reality check. It has brought attention to the idea that traditional benefits do not address many of the financial health challenges employees face.
A Benefits Director in our recent survey highlighted this issue by saying, "I think it's made us just be more realistic about the environment that we're in. People are struggling to make ends meet and it's brought us back a little to worrying less about the long-term savings objectives and really helping employees think about managing the more immediate needs..."3

Work-Life Balance
For better or for worse, remote work environments have impacted your employees and thus, your organization.
Prior to stay-at-home orders, people had daily commutes, kids went to school and there were opportunities for social interaction. Without these natural breaks and opportunities for internal or external connection, many are left feeling unbalanced.
To combat the repercussions that may come along with remote work, some employers are thinking outside the box. From childcare stipends to paid time off (PTO) benefits to pet insurance, many employers are expanding their definition of what constitutes a financial wellness benefit. Given the mental health fatigue workers are facing, these creative benefit ideas could go a long way in letting your employees know that you care about what they care about.
Give the People What They Want
Retirement planning resources and education are the most commonly offered wellness benefits and while they are very important, employees want more. Offering wellness benefits that cater to a wider range of financial health challenges can help employers recruit and retain top talent. The following benefits are in high demand and boast high employee engagement rates when offered:4,5
Digital financial education: Employees, especially millennials, are eager for financial planning apps/websites and tools to help with investments.
Emergency savings: Many workers cannot focus on long-term savings because they are concerned with having a rainy-day fund. Only about a quarter of employers offer an emergency savings fund through payroll deduction.
Student loan help: The mountain of student loan debt that many employees are under is tremendous, yet many financial wellness programs do not address this. Only 17% of employers offer student loan solutions.
Personalized financial coaching: While talking money at work has traditionally been deemed taboo, this highly requested benefit has high take-up rate from employees. However, only 27% of employers offer personalized coaching or credit counseling with a financial professional.
Equity compensation: Rewarding employees with stock purchase plans, incentive stock options and performance shares is a growing trend. Almost half of the companies that provide equity options do so for all employees, not just management and executives.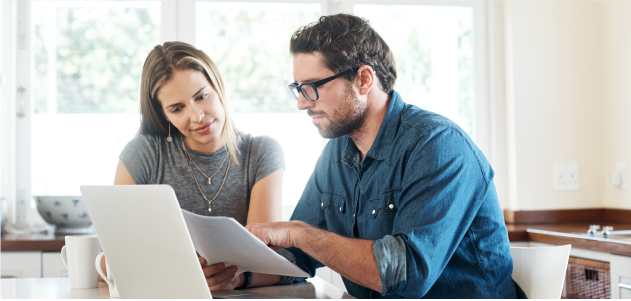 If You Build (and Communicate) It, They Will Come
Merely offering high-quality benefits to meet important employee needs is not enough. Employees need to be adequately informed about the benefits you provide. Email is the most popular mode of communicating with employees about financial health benefits6 and other forms of digital communication like Zoom events, pre-recorded videos and online seminars are becoming more popular. So even in a work from home environment, you can still effectively inform and support employees. And remember, communication doesn't need to be limited to the open enrollment period, year-round communication is key.
The Rebalancing Act
As we look forward into what the future holds, organizations have an opportunity to adapt their wellness programs to help address the financial health challenges their employees face.
Empower Your Workforce
We'd love to talk. Fill out the form and a team member will reach out shortly.
Footnotes
1Morgan Stanley & Financial Health Network. "Financial Health Benefits in the Workplace." Sept. 2020.
2Edelman. "20th Annual Edelman Trust Barometer." January 2020.
3Morgan Stanley & Financial Health Network. "Financial Health Benefits in the Workplace." Sept. 2020.
4Morgan Stanley & Financial Health Network. "Better for Employees, Better for Business." Sept.2020.
5Morgan Stanley & Financial Health Network. "Financial Health Benefits in the Workplace." Sept. 2020.
6Morgan Stanley & Financial Health Network. "Financial Health Benefits in the Workplace." Sept. 2020.
Disclosures
This material is provided for informational purposes only and is not intended as an offer or solicitation with respect to the purchase or sale of any security or other financial instrument or to participate in any trading strategy. It does not provide individually tailored investment advice. It has been prepared without regard to the individual financial circumstances and objectives of persons who receive it. Information and data contained herein is from multiple sources considered to be reliable and Morgan Stanley Smith Barney LLC ("Morgan Stanley") makes no representation as to the accuracy or completeness of the information or data from sources outside of Morgan Stanley.
Morgan Stanley Smith Barney LLC recommends that investors independently evaluate particular strategies and/or investments and encourages investors to seek the advice of a Financial Advisor. The appropriateness of a particular strategy and/or investment will depend upon an investor's individual circumstances and objectives.
Investing in the market entails the risk of principal loss as well as market volatility. The value of all types of investments may increase or decrease over varying time periods.
Tax laws are complex and subject to change. Morgan Stanley Smith Barney LLC ("Morgan Stanley"), its affiliates, employees and Morgan Stanley Financial Advisors and Private Wealth Advisors do not provide tax or legal advice and are not "fiduciaries" (under the Investment Advisers Act of 1940, ERISA, the Internal Revenue Code or otherwise) with respect to the services or activities described herein except as otherwise provided in writing by Morgan Stanley and/or as described at www.morganstanley.com/disclosures/dol. Individuals should consult their tax advisor for matters involving taxation and tax planning and their attorney formatters involving trust and estate planning, charitable giving, philanthropic planning and other legal matters. Individuals are also encouraged to consult their tax and legal advisors (a) before establishing a retirement plan or account, and (b) regarding any potential tax, ERISA and related consequences of any investments made under such plan or account.
Surveys were conducted on behalf of the Financial Health Network by Greenwald & Associates, with strategic contributions and financial support from Morgan Stanley.
Morgan Stanley Smith Barney LLC is not implying an affiliation, sponsorship, endorsement with/of the third party or that any monitoring is being done by Morgan Stanley Smith Barney LLC ("Morgan Stanley") of any information contained within the website. Morgan Stanley is not responsible for the information contained on the third-party website or the use of or inability to use such site. Nor do we guarantee their accuracy or completeness.
© 2022 Morgan Stanley Smith Barney LLC. Member SIPC.
CRC# 3468016 (07/2022)