How to Attract (and Keep) Millennials
Millennials are the largest generation in the labor force.1 As a cohort, they are highly educated, ethnically diverse, innovative and tech savvy. They have been tagged as "a goldmine of untapped potential."2 Yet despite these strengths and an aging workforce, HR departments everywhere struggle to keep millennial employees for very long. Here's how employers can engage this talented generation of employees to build and retain a younger, more loyal workforce.
Legacy of the 2008 financial crisis
Millennials entered the job market during the 2008 global financial crisis, which has had lasting impacts on both their financial health and their psyches. They are lagging behind their parents' financial accomplishments like buying a home, saving for retirement and building a financial buffer. They are saddled with student loan and credit card debt, and are skeptical of financial services and new solutions like robo-advisors. Only 5% have robo-advisory relationships.3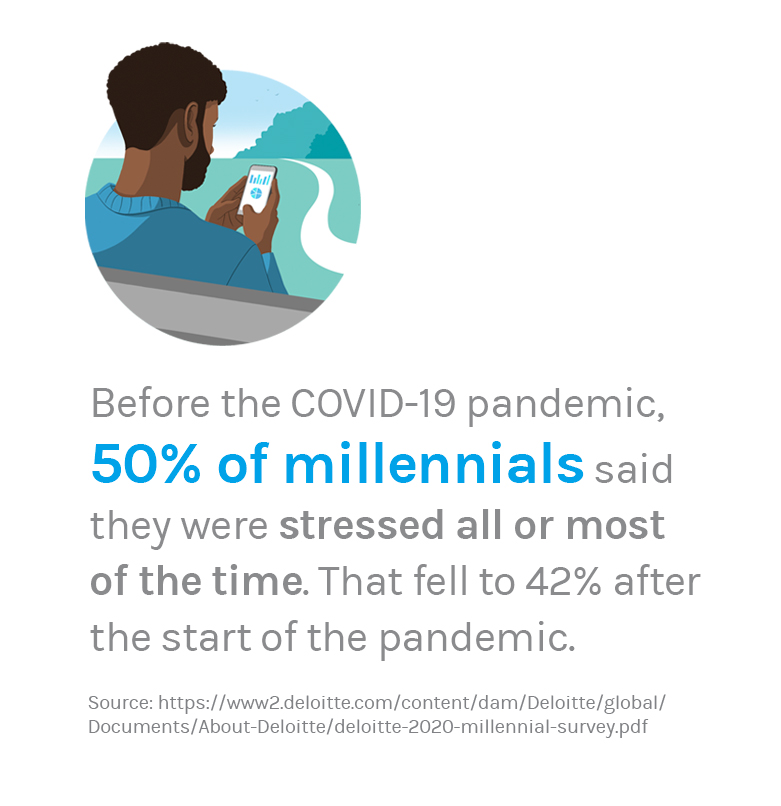 Source: https://www2.deloitte.com/content/dam/Deloitte/global/Documents/About-Deloitte/deloitte-2020-millennial-survey.pdf
A Turning Point?
Surveys of millennials regularly reveal high levels of pessimism and unease. Before the COVID-19 pandemic, 50% of millennials said they were stressed all or most of the time.4 Perhaps surprisingly, that fell to 42% after the start of the pandemic. That unexpected drop may reveal insights into what motivates the generation. Many millennials are driven by deeply held values, and the pandemic seems to have increased both that sense of responsibility and the expectation that collective action can have significant impacts. Consistently, their top social concern is climate change, which also highlights how internalized their commitment is: for example, 62% of millennials say they are factoring in environmental concerns when deciding how many children to have.5 Among personal sources of anxiety, however, financial well-being stands out. Their top three sources of stress are their family welfare, longer-term financial future and career prospects.6
Fewer Jumps
In past years, the reputation of millennials as "job hoppers" was supported by studies, with Gallup reporting that 60% were open to a new job opportunity at any given moment.7 But that appears to be changing as the generation matures, financial stresses increase, the pandemic shakes up job security and employers become more responsive to millennial needs—which are often less focused on salary and more on things like flexibility, sustainability, reskilling, diversity and community. For the first time since asking the question in 2016, the 2020 Deloitte Global Millennial Survey found that more millennials would prefer to stay with their employers than leave. The percentage who planned on leaving within two years dropped from 49% to 31%.8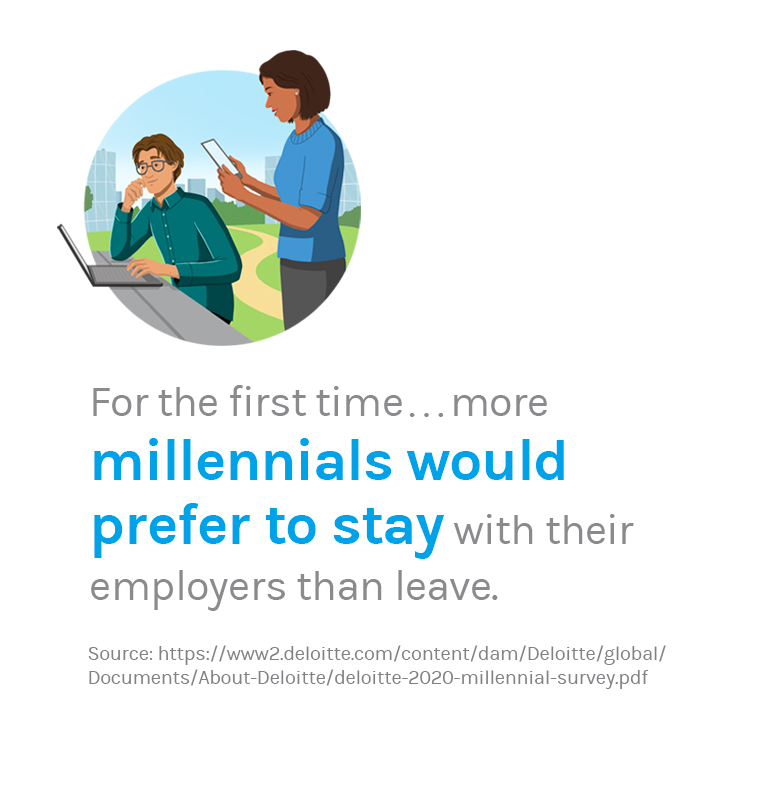 Source: https://www2.deloitte.com/content/dam/Deloitte/global/Documents/About-Deloitte/deloitte-2020-millennial-survey.pdf
Creating Trust
Employers have started—and should continue—to build trust, loyalty and retention. Here are some key considerations and concrete steps:
Flexibility: It's no secret that millennials appreciate flexibility. In a pre-pandemic FlexJobs survey, 84% put work-life balance as their most important job consideration,9 which helps explain why so many in the past gravitated to the gig economy.
Remote work: The ability to work remotely—greatly accelerated by COVID-19—adds significant flexibility. And millennials appreciate it: 69% said it lowered stress, 59% reported their employers trusted them to remain productive outside the office, and half said employers had provided training to facilitate remote work.10 Once established, employers can use that remote skills development channel to continue to build engagement. For example, equity compensation plan sponsors can use it to organize more personal calls, get to know employees and build out plan education and participation.
Values: Millennials want to be part of something bigger, and their values drive their decisions. Building community, a positive reputation and an inclusive, collaborative corporate culture go a long way. Ensuring millennials are included in discussions around workplace benefits, corporate campaigns or social issues builds engagement and helps align this energy with company strategy. These considerations often dovetail and support each other: for example, more than 60% of U.S. Hispanics are millennials or younger, so any diversity and inclusion strategy is likely also a millennial strategy.11
Technology: Millennials actively seek employers who use technology to improve and innovate, with 82% citing workplace technology as a factor in accepting a job.12 Tech can support flexibility, collaboration and the more horizontal interaction that millennials prefer, while also facilitating financial wellness portals that help millennials with advice, planning, coaching tips, calculators and similar tools.
Financial wellness. Given the prevalence of financial stress among millennials, they need employers who offer benefits that are customized to meet their needs—another form of flexibility—and providers who can advise them on maximizing their benefits, from financial education to equity ownership to retirement savings and investing.
Equity compensation: Millennials rank equity compensation higher in importance than Gen X and Baby Boomers,13 though women continue to be less likely to own stocks or join programs.14 In order to make their equity compensation plans more inclusive, businesses need to understand women's career paths and take active steps to ensure equity participation rates are balanced.15
Advice: Millennials prefer human advice to help them develop and stick to a financial plan,16 but managing wealth does matter to them. Despite their relative youth, 70% of millennials are thinking about wealth transfer issues, either to their children or from their parents.17
Financial literacy: Millennials value education and see it as a life-long endeavor. When tested on financial literacy, however, they tend to score lower than most other cohorts, even teenagers. Their debt load is higher and their savings are lower. Employers can help address this with financial wellness programs like on-site seminars and education portals.
Retirement benefits: More than six million millennials are taking care of aging parents18, while also raising their own children. Employers who can help this new "sandwich generation" safeguard their retirement savings will secure their loyalty. This includes steps like optimizing plan design (e.g., auto-enrollment, auto-escalation and catch-up contributions), addressing the retirement gender gap, and using the full spectrum of available tools to model financial potential, maximize benefit dollars, monitor progress and plan finances strategically.19
Engaging and Retaining Millennials
Employers who can help millennials maximize their workplace benefits, build wealth on their terms and better achieve their life goals will win. Because when employees thrive, companies do too.
Contact a Morgan Stanley Financial Advisor to assess how your current benefits plans can better engage, retain and attract a talented millennial workforce.