Women's History Month isn't just a time to look back at the extraordinary and too often overlooked past contributions of women to improving and healing the world. It's also a time to celebrate the current and future efforts of women.
At Morgan Stanley, our Women in Wealth network engages more than 4,000 members across 48 chapters in the United States. This impressive group serves as a dynamic internal network that encourages connection, career advancement and personal development, whether through discussions on balancing career and motherhood, or sessions with upper-level executives.

As part of Morgan Stanley's celebration of Women's History Month, Women in Wealth has is sponsoring three special events for members and those interested in their work: Nyakio Grieco, founder of the clean beauty brand nyakio™, Dr. Moogega Cooper, engineer on NASA's Mars Rover "Perseverance" Mission and Cynthia Marshall, CEO of the Dallas Mavericks The latter event with Cynt Marshall, is open to clients. Beyond these three, there is a dynamic line up of events including "Women Shaping the Economy," where a panel of experts will explore the key trends and seismic shifts impacting the economic recovery. And Morgan Stanley leaders will join with New York Women's Foundation grantees to examine how these and other trends and shifts are affecting women.
As part of this year's Women's History Month, chapters will also be conducting food drives for local women's shelters, collecting professional attire to help women in need more easily enter or re-enter the workforce and collaborating with other groups to help young women acquire the skills to exercise the power of their voice.
Women in Wealth also continues to collaborate with other Morgan Stanley women's networking groups around the world to encourage everyone to #BreakTheBias as part of International Women's Day. Shared global discussions and events in EMEA, Asia and North America will focus on ways to actively call out gender bias, discrimination and stereotyping any time and every time they're seen.
We reached out to the two Co-Chairs of Morgan Stanley's Women in Wealth—Julia Yue and Nicole Sams— to hear about their experiences with the women's network, to find out what Women's History Month and International Woman's Day mean to them and to learn more about the group's efforts and events during the 2022 celebrations.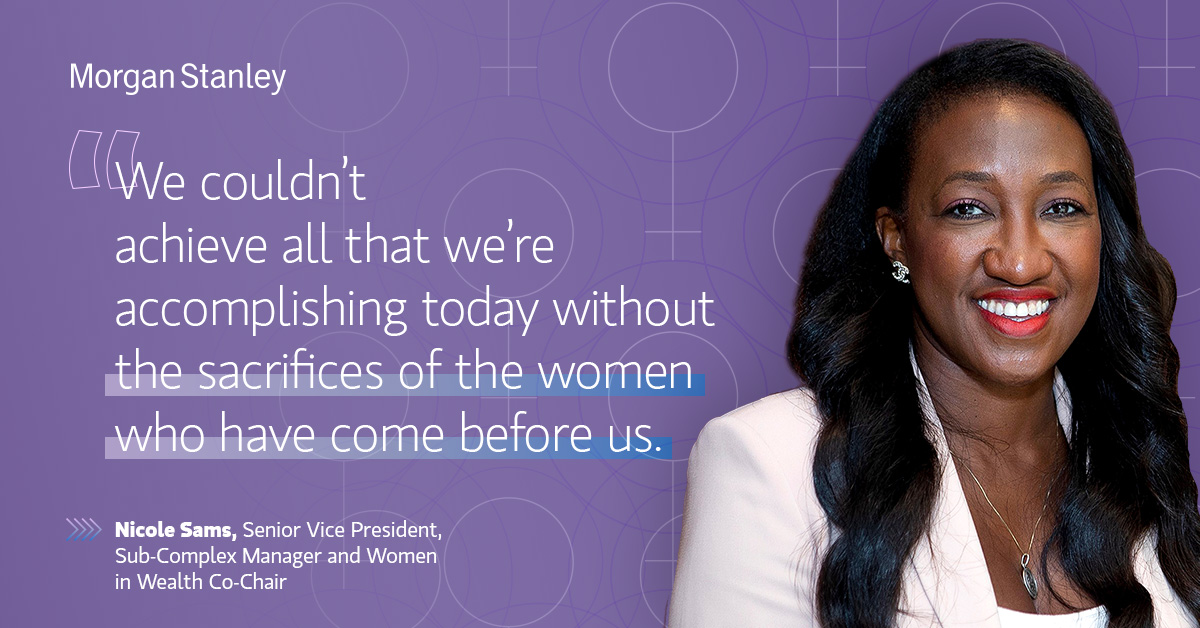 How do you describe the value of our Women in Wealth Network?
Women in Wealth provides a platform for us to come together, celebrate our accomplishments and acknowledge our disappointments, all while being supported and uplifted. What really makes the group special are the women who work tirelessly to make this Firm inclusive for all. You have women from all around the country coming together for a single mission around empowerment and harnessing that strength to make sure that we all win.
Why is it important to celebrate Women's History Month?
As women we're often so focused on being caregivers and champions of others that we don't take a moment to reflect on all the amazing contributions that we've made to keep our world moving forward. We couldn't achieve all that we are accomplishing today without the sacrifices of the women that have come before us. It's imperative that we celebrate and look for ways to highlight women that have been innovators, and women that touch every fabric of our society, to say we see you, we thank you and we appreciate all that you've done to allow us to live our fullest and best lives.
The 2022 Women's History theme is Providing Healing, Promoting Hope. What has Women in Wealth done as a group to honor the women in their own communities or organizations?
This year's theme aligns perfectly with our mission of empowering and uplifting others. On any given day these dynamic members are telling the stories of women in their communities who do so much and ask for so little in return, whether they're trailblazers, captains of industry, elite athletes or social activists. Women in Wealth are providing hope by being sponsors, mentors and role models to the many young girls that look up to them and aspire to walk in their shoes one day.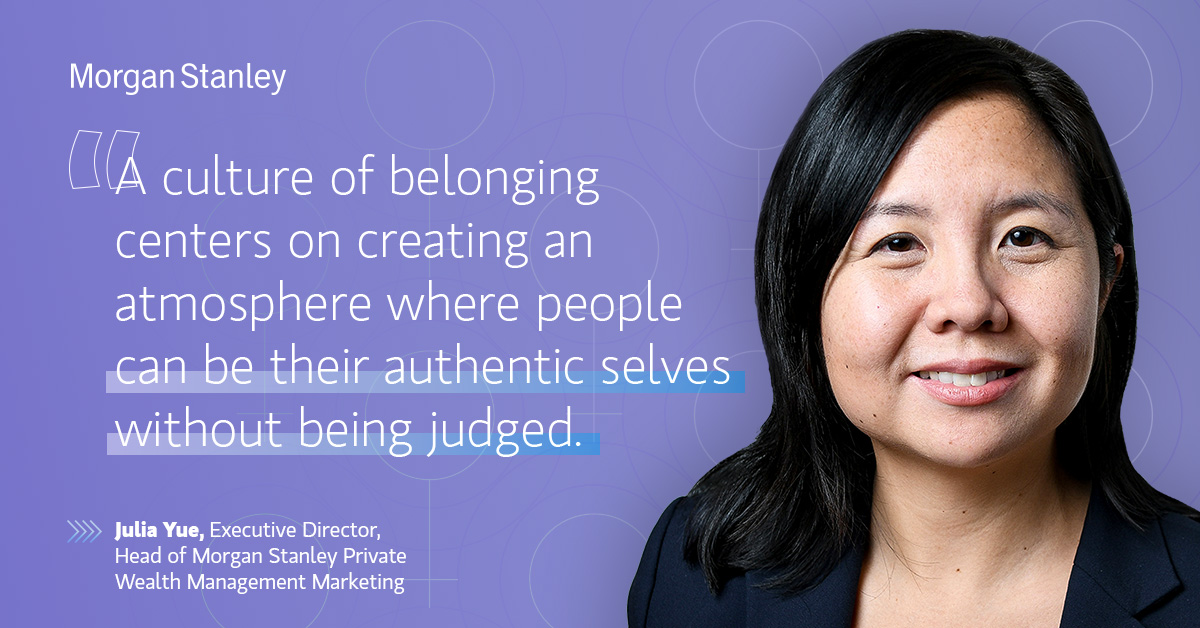 Why is it important to celebrate Women's History Month?
Women's History Month is a time for us to pause, reflect, and celebrate. It is an opportunity for us to learn more about all the phenomenal women leaders who have created change and impacted our society. It is also a time for us to create awareness around the issues and challenges that still need to be addressed. International Women's Day is one of my favorite days during Women's History Month, as it encourages us to think about women's issues as a global community.
What is your definition of a culture of belonging?
Belonging is a feeling that we all want to experience. I was raised in a small town with a lack of diversity and felt very much like an outsider at moments throughout my childhood. To me, a culture of belonging centers on creating an atmosphere where people can be their authentic selves without being judged. It provides a safe space that allows you to be true to your values and beliefs, while receiving respect, appreciation, and acceptance from others.
The 2022 Women's History theme is Providing Healing, Promoting Hope. What has Women in Wealth done as a group to honor the women in their own communities or organizations?
We will be holding a series of events celebrating individual and cultural differences and inspiring empowerment as well as highlighting them in our quarterly newsletter. For example, we'll be acknowledging one of our members, Nameeta Kamath, as one of the 13 Global Giving Back Champions at Morgan Stanley, acknowledging her volunteer efforts both at the Firm and externally. She is an inspiration to all of us within the Women in Wealth community!
Morgan Stanley embraces setting aside a month to celebrate the contributions women have made to making the world a better place for all. We're also committed to pursuing a gender equal world every day, all year long, and to constantly challenging ourselves and others to be more alert and informed, and to become catalysts for change.