The nine-time Grammy-winning artist shares her story of legacy and reinvention.
"The pain of moving forward is the pain of changing. But if you really want to move forward and achieve something you have to relieve yourself of all that."
With those inspiring words, Grammy-winning singer-songwriter, entrepreneur and philanthropist Mary J. Blige recently brought her story of reinvention to Morgan Stanley Wealth Management clients. She reminded the audience that we are the authors of our own professional, personal and financial legacies, and challenged them to free the greatness within.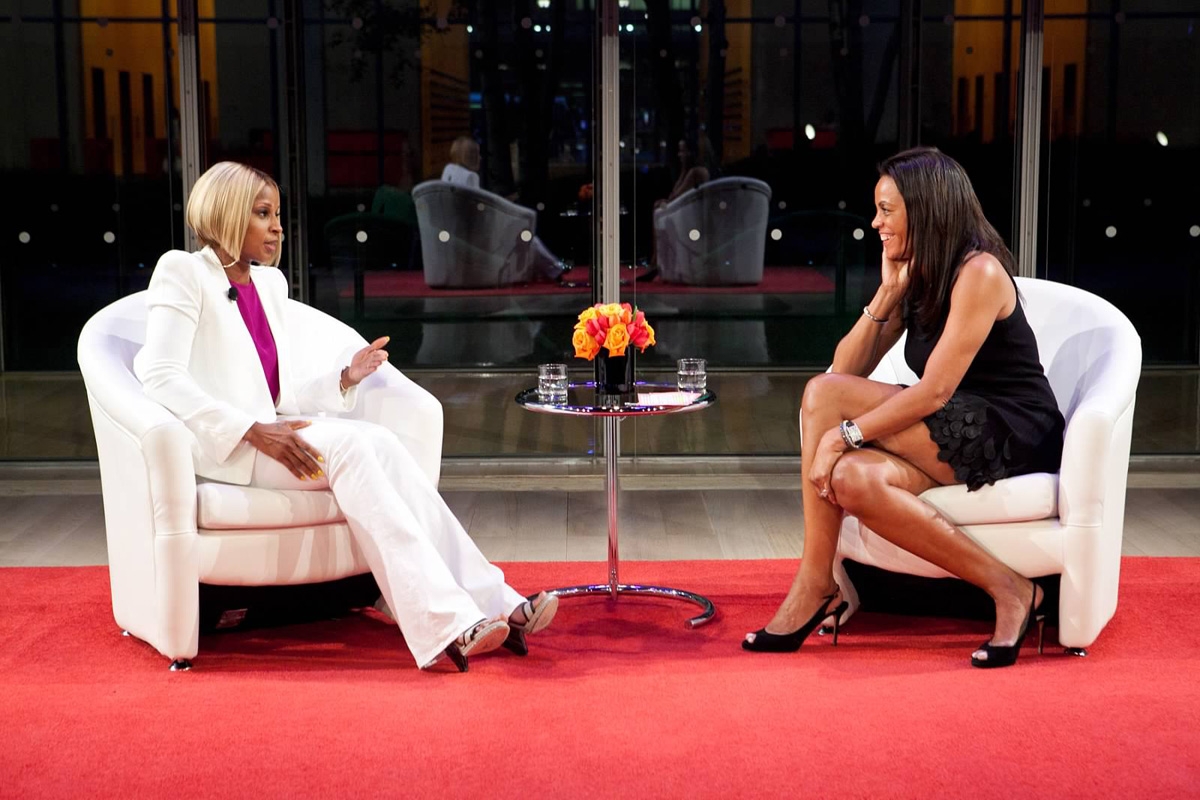 Grammy-winning singer-songwriter Mary J. Blige shares her story of reinvention with Morgan Stanley Private Wealth Advisor Kimberley Hatchett
The evening centered around a powerful documentary that chronicled the making of her 12th studio album, The London Sessions, where the legendary "Queen of Hip-Hop Soul" challenged expectations and delivered a marked departure from her established sound.
Working in collaboration with British neo-soulster Sam Smith, as well as dance duo Disclosure, Ms. Blige's album marries her soul-stirring voice with an array of cutting-edge London musicians and producers.
The album's new direction came with risks. But Blige embraced the risks in order to grow. "It would be unfair to give [my audience] the same redundancy… I've never been afraid to try different things and I felt like I had to make a really big leap and do something completely different."
Getting "Unstuck"
During an intimate post-documentary interview with Private Wealth Advisor and 2015 MAKER, Kimberley Hatchett, Blige acknowledged that her greatest fear is settling into stagnation, which she calls "getting stuck."
"Sometimes we get to a place where we regress," she told Hatchett, "But when we find ourselves, we find out what we can accomplish."
When asked why young women respond so strongly to her music, Ms. Blige said, "I think because I'm a woman trying to make it through, too. Because I'm in the public eye. People see me as a human being. I make mistakes. I fall. I bump into walls. But then I get up and say 'No more drama!'"
When asked what she would say to the 21-year-old Mary J. Blige, the singer said, "Don't be afraid of yourself. Don't be afraid to be great."
Giving Back to the Community
In addition to her multifaceted career, Ms. Blige is also creating a legacy of service to the community. Raised in the Bronx by a single mother, Blige was no stranger to hardships. Her philanthropic efforts include supporting the Mary J. Blige Center for Women in Yonkers, NY which provides women with educational, professional and personal growth opportunities. She also participates in movements that raise awareness about social issues, climate change and poverty.
"[Mary] faced many of the same structural headwinds that so many of our communities face," said Mandell Crawley, Global Chief Marketing Officer at Morgan Stanley. "Mary serves as a model for perseverance and following your dream. She has an unbelievable story of overcoming obstacles. Because she made it, a generation of young people now know that they can make it too."
The Importance of Legacy
The event was Ms. Blige's second with the Morgan Stanley family. "Thank you everyone at Morgan Stanley who's been supporting me from the beginning. Thank you for being our friends and being there when we needed real friends."
The evening served as a bold and empowering reminder to Morgan Stanley Financial Advisors and clients that life is about challenging oneself, creating your legacy and freeing the greatness within.
Morgan Stanley Wealth Management also recently launched Morgan Stanley Global Sports & Entertainment, a division of Morgan Stanley Wealth Management dedicated to serving the unique needs of professional athletes and entertainers.