At Morgan Stanley, we honor the importance of Black History every month, and especially in February.
Throughout this month and year, our celebrations and conversations about representation, allyship and equity will center on the theme of Uplift: community building, professional development, employee engagement and giving back.
There are multiple events planned this month, including but not limited to Impact and Insights - A Conversation with Black Leaders on Wall Street; the Firm's Innovation Lab presents A Founder's Journey: Lessons in Resilience, Vision and Innovation; Exploring Allyship: Moving from Awareness to Action; and to close out the month, we will host a conversation on championing diversity with the bestselling author of Americanah, Chimamanda Ngozi Adichie.
While we honor this month as a time to celebrate the rich history and accomplishments of our Black community, our focus does not begin nor end in February. Every day, we work to build a culture of belonging through our programs, initiatives and trainings. It is in our DNA.
A leader in these efforts is our Black Employee Network (BEN). The ongoing thought leadership, networking opportunities, professional development programs and allyship efforts driven by BEN have created lasting, meaningful change for our Black colleagues. This month we spotlight two members of BEN who, like so many of our colleagues, are making Black History. Read more as Sabina Dankwa and Niki Quarmyne share insights, stories and what Black History Month means to them.

Lastly, follow us on Social as we continue to amplify the voices and celebrate the accomplishments of our distinguished colleagues all year long.
Why do you volunteer your time to co-lead programming form Black History Month?
When I joined Morgan Stanley in June of 2021, I looked for an opportunity to connect with people outside of my organization. I enjoy volunteering for causes, and I knew that would be one way to also connect. I was thrilled when the opportunity came in the form of co-chairing the 2022 Black History Month program for the Firm. It was an honor, especially as someone who identifies as part of the Black diaspora. As a native of Ghana, West Africa, and graduate of a Historically Black College and University, I feel a particular affinity to the Black network. I see our affinity employee networks as a sort of home away from home, a support system and a place where we can all add value. It is wonderful to be part of an organization that focuses on volunteering and giving back as a core value. I get involved to connect. I stay involved to learn.
Why is Black History Month Important to You?
As with every heritage month, it is an opportunity to be educated about the history and achievements of a group of people that live a shared experience. These experiences are stories that are woven into the fabric of the American culture. As an African who migrated to America, where I've lived most of my life, understanding African-American history through the lens of the Black American experience is important. It connects the dots to the beginnings of slavery where my own African story originated. This is a powerful reminder that our stories are a continuation of the American story.
What are some turning points the industry still needs to make?
The American story is one of innovation, disruptive change and embracing of diversity among people. Incredible strides have been made in adopting leading technology for work and for social engagement. When we in our industry lean in, we lean in hard, because the risk of not doing so can set us back in our highly competitive market. But the pace has been slower for recruiting, retaining and promoting diverse talent in our industry. I often ask, what is the best way to learn a foreign language? Simply put, it is by immersion into the culture to understand and embrace its language nuances. Similarly, the best way to recruit diverse talent, is to go where that talent is, en masse. Recruiting diverse talent should be a borderless endeavor that extends beyond our comfortable boundaries.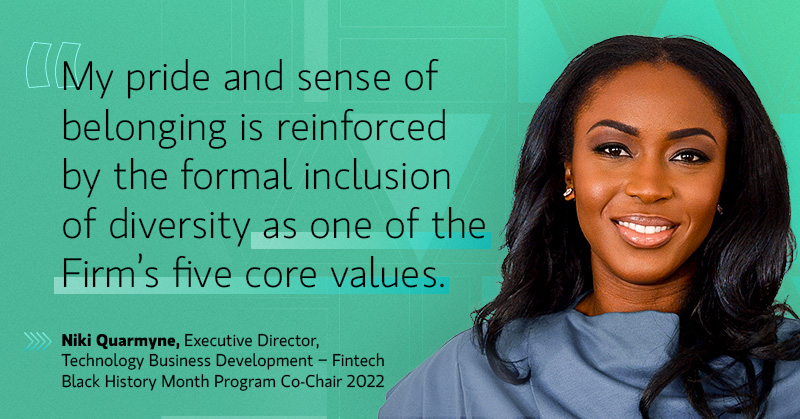 Why do you volunteer your time to be part of the Black Employee Network (BEN) Steering Committee?
Outside of my immediate team, the employee networks provided an excellent opportunity to meet other individuals who have similar interests but who I might not necessarily interact with on a day-to-day basis. Without the natural cadence of meeting people on the floor or walking into the office for example, BEN was one of the important ways for me to develop other relationships across the Firm. When I first joined the BEN, I was impressed with how very data driven the leadership was. When the Co-Heads invited me to join the leadership team and co-lead the Communications pillar, I did not hesitate because I had personally experienced the benefits of the network in my integration into the Firm and it gave me an opportunity to give back. The Communications pillar drives BEN's mission, which for the past two years has been focused on representation - recognizing the advancement of our Black colleagues. For 2022, the focus is on Mobility, Allyship and Community Engagement.
Why is Black History Month Important to You?
I grew up in Ghana, where festivals were an important part of our culture and a way of bringing awareness to the contributions of our ancestors. I see Black History Month in a similar light. For me, it serves as a moment where we as a collective, pause, reflect, learn and share our history. Our history shows who we are, where we come from and reveals where we could be headed. With each passing moment, that story gets richer and richer. It would be such a shame not to celebrate our history in a significant way. Being involved in the Black History Month planning process for the Firm has been a delight and an honor. As a committee, we were intentional about the theme and the associated programming. Our theme for this year is "UPLIFT": Uplifting our Community to Lead, Engage and Develop. The theme Uplift focusses on reinforcing a sense of optimism and resilience as we continue to navigate a community that is adjusting to uncertainty socially and politically.
What is your definition of a "culture of belonging"?
Cultural belonging provides an environment where people are not just heard, but seen, accepted and provided an environment where they can thrive, irrespective of their differences. To do this effectively, we must bring everyone in, creating an atmosphere of empathy and inclusion. This is especially important for marginalized groups. Developing a culture of belonging leads to more engaged teams, who are highly motivated and as a result, more likely to perform at a high level.
Creating meaningful and sustainable change in diversity, inclusion and belonging requires intentional focus and investment. We at Morgan Stanley are committed to action, and we are committed to building and sustaining a culture of belonging where each employee can grow and thrive.